Sunday Worship & Educational Schedule
Sunday Worship Schedule
8:00 Informal Traditional Worship Service
10:30 Worship Service
Sunday Education Schedule
9:15   Sunday Education Classes for Preschool – 5th Grade, Confirmation, High School, and Adults
Summer Worship Schedule
 (Memorial Day Weekend thru Labor Day Weekend)
9:30 am Worship Service
(No Sunday Education during the Summer)
Education
Sunday
9:15  am Sunday Education Classes for Preschool – 5th Grade, Confirmation, High School, and Adults
Tuesday
7:00/7:30 am Weekly Men's Breakfast & Monthly Bible Study  (Call church office for specific times and locations.)
9:30 am  – 11:00 am Tuesday Morning Bible Study
Wednesday
12:00 – 2:00 pm Adult Spiritual Formation (Does not meet in the summer. See newsletter for topics and more information.)
Advent and Lenten 5:30 Wednesday Meals & 7:00 Worship Services (Advent & Lent only, see newsletter for more information.)
7:00 pm Choir Rehearsal
Thursday
Garden Club – Once a month.
Friday
11:00 am Bible Study at Diana's Care (special needs adult care home)
A simple way of thinking about how we are to be as Christians
in the world is thinking about right relationships.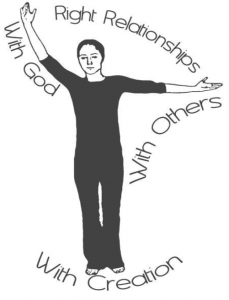 We are to be in right relationship with God, others, and creation.
May you be blessed by Hope, as you are a blessing to the world.